What is Moissanite?
Simply put, is a lab-grown form of diamond that is a popular alternative to traditional diamond.
This gorgeous gemstone has been making waves being more affordable and having a greater hardness. 
It has a variety of element types like rings, watches or moissanite bracelets.
It consists of similar properties like natural diamond reflecting rainbow sparkle.
Moissanite is available in different sizes and shapes; and even more durable in comparison to diamonds.
Moissanite makes the jewelry more attractive, as its shine and luster attracts everyone.
Physical Properties of Moissanite 
Now let's understand the physical properties of the precious stone to know what specifically sets them apart from the rest.
Hardness
Moissanite is a hard stone; with a hardness of 9.25 on the Mohs scale.
Color
Moissanites are labeled as "colorless", they can still project many different shades of yellow or grayish hues.
Brilliance
Moissanite has more brilliance than a diamond with a refractive index from 2.65 – 2.69.
Durability
On the Mohs scale, moissanite has a hardness of 9.25 on the Mohs scale which makes it extremely durable and ideal for everyday wear.
Cut
Cut grade is how carefully the stone is cut that defines how properly light can travel which increases the shine of stone. 
Clarity
Clarity grades are based on how they were formed on the Earth. They are labelled as Fl or IF, VVS1 or VVS2, VS1 or VS2, S1 or S2, I1, I2, I3.
Price
If you don't want to waste your hard-earned money buying expensive jewelry, moissanite can be your cost-effective solution. 
Sourcing
Moissanites are lab created, which is why they are an appealing option for those seeking an eco-conscious gemstone as they need no mining.
Choosing a Moissanite Stone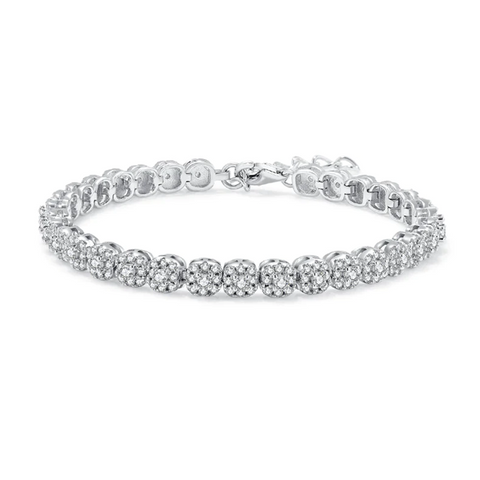 The decision is based on your preferences while jewels are evaluated on the 4 C's scale (Cut, Clarity, Color, Carat).
Moissanites are graded solely on color, the cut and clarity grade is equal across different qualities of moissanites.
Super premium moissanites are nearly colorless and fall within the D-F range. Premium moissanites can be compared to a G or H in color on the 4 C's scale.
Benefits of Moissanite
Starlight Rainbow Sparkle
Gleaming, gorgeous and affordable, the moissanite prides itself as a hand-polished gem with a flashy sparkle that will dazzle with radiance unmatched by diamonds.
Lasting Resilience 
Moissanite is an extremely resilient stone that won't scratch or break easily.     
Quality and Value
It's easier to invest in impressive show-stopping moissanite with the same durability and brighter sparkle as diamonds for less money!
Planderful moissanite sparkling bracelet will provide you with radiance and brilliance that is simply unmatched. 
Brand - Planderful
Collection Name - Moissanite Sparkling
Product Type - Bracelet 
Main Material - Sterling Silver
Major Gem Type - Moissanite D/VVS/3EX 3.5CT
Weight - Approx. 10 Gram/each
Diameter - 2.0mm/18cm
If you are on the hunt for that unique moissanite sparkling bracelet that captures each fragment of your style within its gleaming beauty, we invite you to browse through a rich collection of Planderfuls' Moissanite Sparkling Bracelets.