Christmas is just around the corner and it's time to start shopping for the perfect gifts for your loved ones. Jewelry is always a great choice and it can be hard to find just the right piece. Christmas jewelry can come in a variety of styles, from classic gold and silver to more modern designs featuring colorful beads or crystals. Whether you're looking for a subtle statement piece or a show-stopping statement necklace, consider buying yourself a piece of Christmas jewelry for a festive and sparkly addition to your holiday wardrobe. With an array of designs on offer, there's something to suit all tastes and budgets, so why not treat yourself to the perfect finishing touch this season? After all, nothing says Christmas like the glint and glamour of festive jewelry!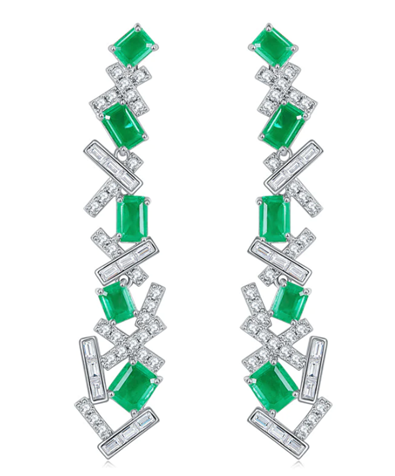 Lab-Created Emerald Irregular Splicing Silver Drop Earrings for Women
Wearing Christmas-themed jewelry can be a fun way to show your festive spirit. From sparkly earrings and necklaces to chic holiday bracelets, there is something for everyone when it comes to Christmas jewelry. Whether you are looking for something subtle or something bold, you can find the perfect piece to express your holiday cheer and have everyone talking. So don't be afraid to take your festive style up a notch this year and don your favorite Christmas jewelry pieces. After all, it's the most wonderful time of the year!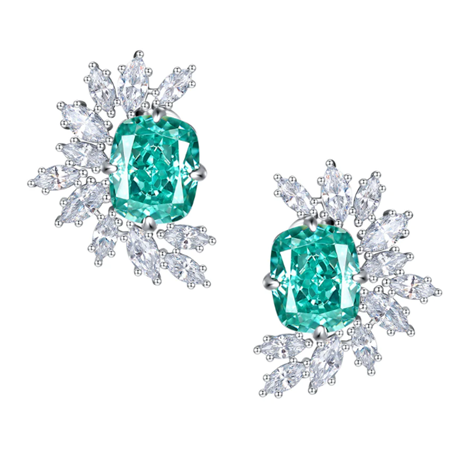 Cyan Zircon 9*11mm Rectangle Ice Cut Half Annular Petals Silver Studs Earrings for Women
Full-on Glamour or a Subtle Seasonal Touch?
Wearing Christmas jewelry is an easy and fun way to show off your holiday spirit! From dainty charm bracelets to bold statement rings, there are plenty of festive options to choose from for jazzing up your holiday 'fit. Whether you're aiming for full-on glamour or a subtle seasonal touch, you'll find that accessorizing with Christmas jewelry adds just the right amount of shimmer and sparkle to any look. With so many wonderful options available, why not try something new this year? You might just find the perfect piece to make your Christmas sparkle and shine!
It can also be an excellent conversation starter and a great way to make new friends—Christmas jewelry is the perfect way to make a statement this winter season. With tons of festive options to choose from, no two Christmas looks will be alike. Whether you opt for classic Christmas themed pieces or bolder Christmas fashion, Christmas jewelry is the perfect way to accessorize and make your regular winter wear stand out.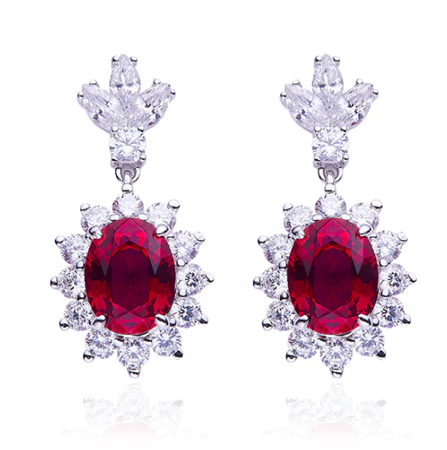 Red Zircon(3.2CT) Stone Solitaire Drop Earrings for Women
Additionally, wearing Christmas jewelry can also be a great way to show your love for the season and bring cheer to those around you All in all, jewelry for Christmas is a great way to express yourself and your festive spirit. It's a great way to bring cheer and joy to the season. Whether you choose jewelry for yourself or as a gift, it's sure to bring a smile and make your holiday even more special.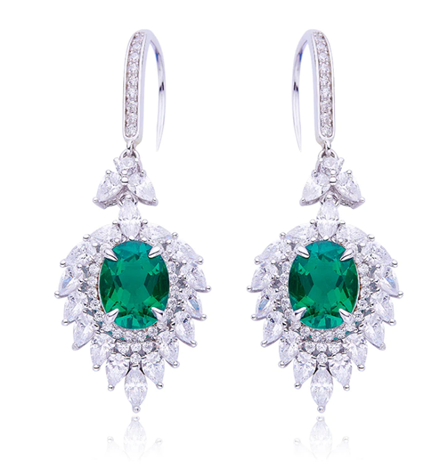 Green Zircon(4.0CT) Stone Solitaire Drop Earrings for Women
Mixing and matching different styles and colors of Christmas-themed accessories will give you a unique and stylish look that will leave your friends in awe. Whether you opt for a festive themed jewelry set or an individual yule inspired earring to make a statement, you're sure to turn heads with your Christmas chicness! So don't be afraid to let your style shine through—glamorous Christmas jewelry are guaranteed to give your wardrobe an awesome upgrade!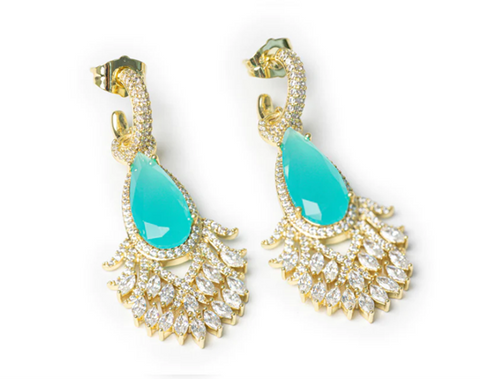 Blue Crystal Drop Earrings - Golden Drop Earrings for Women
What to Look for in a Christmas Jewelry
Look for pieces made from sterling silver, gold, or other precious metals for a more luxurious look this Christmas. If you're looking to add a touch of sparkle to your Christmas look this year, then why not go for some gorgeous Christmas jewelry such as star-shaped earrings or sparkly statement pendants. From timeless pieces like a gold bracelet or zircon earrings to more modern pieces like a beaded necklace or chandelier earrings, there's something for everyone. With Christmas jewelry, you'll be sure to stand out and turn heads this festive season!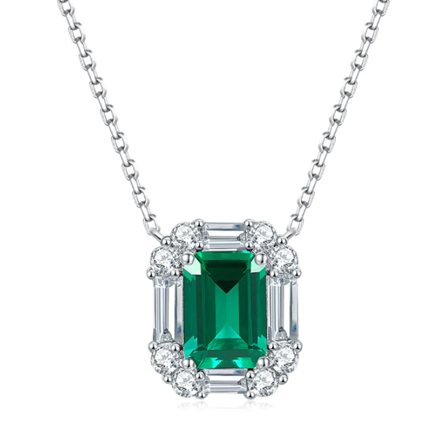 Lab-Created Emerald Rectangle Vintage Silver Necklace for Women
Shopping for Christmas Jewelry
Look for pieces that are made from a high-quality material and have complex details that stand out. Nothing says Christmas like glamorous, dazzling jewelry! Instead of settling for something that's just adequate, why not choose something that will make your outfit sparkle and shine? Investing in pieces made with high-quality materials ensures that you'll have a piece of Christmas jewelry that you can enjoy for years to come. And don't forget to check out the intricate details; these are what really make a piece stand out from the rest and bring your holiday look to life.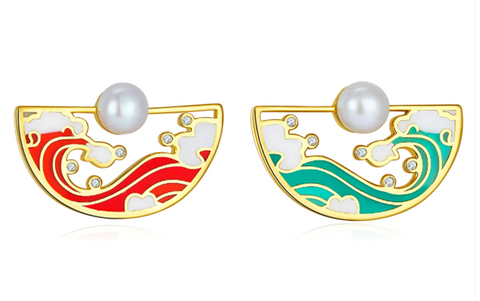 (Two Colours) Tide Enamel with Pearl Golden Studs Earrings for Women
Storing and Preserving Christmas Jewelry
Christmas jewelry should be stored in a cool, dry place away from direct sunlight—after all, what's the use of jewelry if it loses its sparkle and shine? While jewelry boxes, pouches and even jewelry drawers are all great places to store jewelry in general, special consideration should be given to Christmas jewelry. Not only is it a reminder of special days spent with family and friends, but it's also a symbol of love and care. So why not give your jewelry the TLC it deserves and keep it safely tucked away for many more years of shiny memories!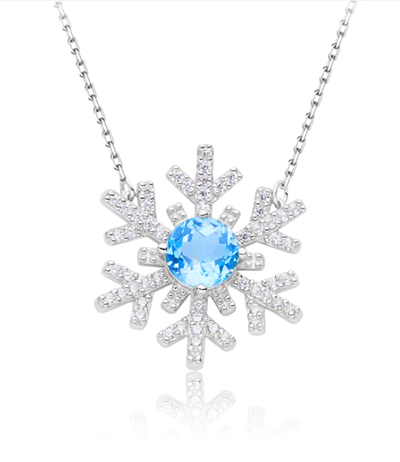 Blue Topaz Stone Solitaire Drop Snow Necklace for Women
Cleaning your jewelry before storing it is also important to ensure there are no dirt or dust particles that can cause damage. After all, you don't want to pull out your Christmas look and find it no longer shining like the star atop the tree. So be sure to give your jewelry a little extra love before packing it away, so you can bring out your Christmas look in full sparkle again next season!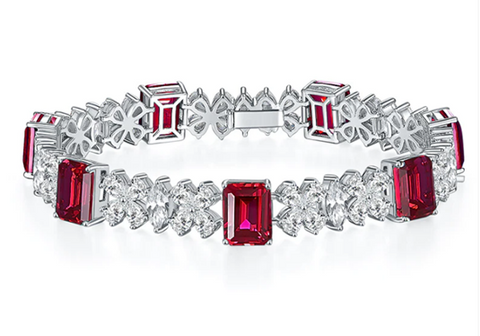 (Four Colours) Zircon Emerald Shape Ice Cut Petals Beading Bracelet for Women
Selecting the perfect Christmas jewelry for your loved ones can be a challenging task. However, by keeping the person's style and interests in mind, it will be easier to narrow down the choices. Also, take into consideration the quality of the jewelry and pay attention to the details when shopping. If you apply these tips, you're guaranteed to find a wonderful piece of jewelry that will make your loved one's Christmas even more special!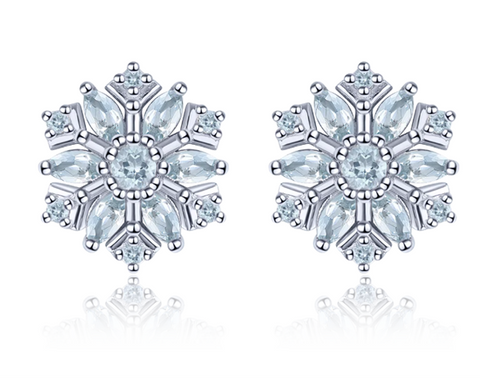 Aquamarine Stone Snow Studs for Women
When shopping for designer Christmas jewelry, quality is key—after all, you don't want your festive bling to tarnish the moment you leave the store! Fortunately, there's no shortage of quality Christmas jewelry at Planderful, from snowflake earrings to moissanite-encrusted holiday-themed pendants. With so many beautiful pieces to choose from, your holiday look is sure to sparkle and shine!