As the valentine season draws to a close, the proposal season is just getting to a start. No doubt that romance is very much in the air during the winter season, especially around the festive months.
While the most popular day of the year to propose is CHRISTMAS EVE. Why? The biggest reason for this is that the occasion felt romantic and being around all the family at this time of year is just a big plus point.
Have you ever thought about what makes a good proposal? Straight to the point, popping the question with a simple "will you marry me? '' is what women prefer. 
Remember that it is one of the most important questions you would ever ask. It is a life changing moment that you both are going to cherish forever.
Whenever you choose to ask the question, a little thought should be taken on how to ask it. Now that you've decided on a date and place to propose. It is the time to find the ring to match. It's not easy but it's not impossible either.
We can guide you through everything you need to know from choosing the right engagement style ring, selecting the type of metal, the technicalities of diamonds and gemstones, to some important tips on finding out the perfect ring! 
Your Love Is Rare
Moissanite is currently fashionable once more. She is going to respond with a "yes" because of the warm, delicate piece, letting her know how you feel.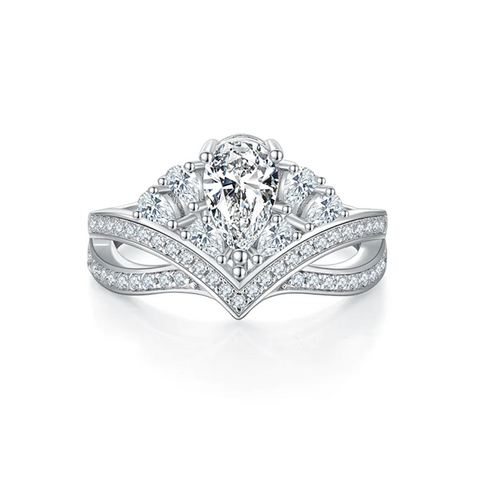 (Four Colours) 1.0CT Moissanite Pear Drop Three Prongs Water Droplets Platinum Plated Ring for Women are one of the trendiest styles for people looking for a wealthy band.
How Pure Is Your Love?
The pinnacle of grace and beauty is the pear-shaped diamond ring, and their lovely shape allows the stone to gleam even more brilliantly, in a halo setting. 

(Four Colours) 1.0CT Moissanite Pear Drop Luxurious Soleste Halo-Platinum Plated- Marquise Droplets Ring for Women with glittering diamonds to enhance and preserve your precious moment.
Diamonds Are Forever
The most common type of solitaire is a pear-shaped platinum solitaire because of the way it is cut, which highlights the stone's depth and makes it sparkle the most.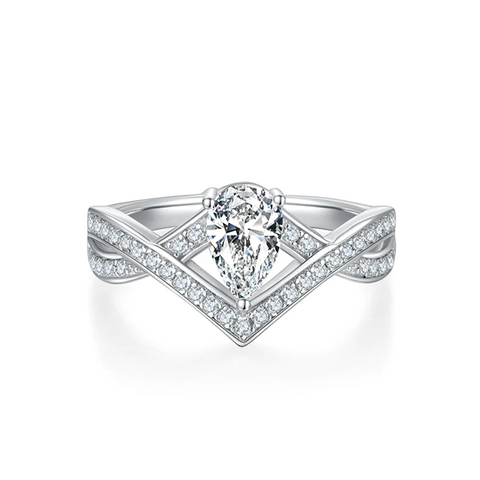 (Four Colours) 1.0CT Moissanite Pear Drop Three Prongs Split Shank Platinum Plated V Ring for Women have a delicate, sophisticated, and contemporary appearance, and they make sense as one of the best jewelry styles for 2022.
A Silver Screen Proposal
Halo engagement rings embody luxury and sophistication that come with various center stones in different sizes and shapes, frequently coloured gemstones.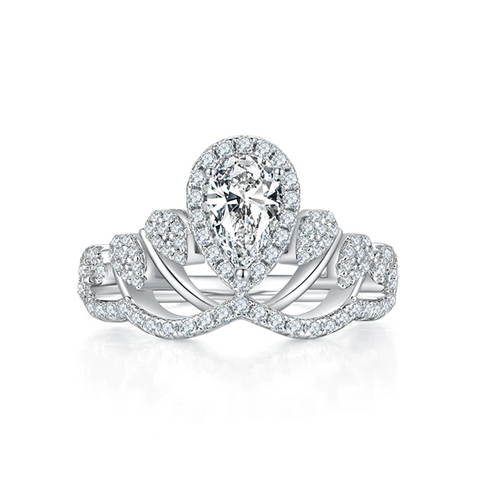 Any skin tone will intensify its color tone with this lovely (Four Colours) 1.0CT Moissanite Pear Drop Soleste Halo-Platinum Plated - V Queen Luxurious Ring for Women, making it appear even more gorgeous.
Earn Yourself A Star
Modern and vintage elements coexist in beautiful rose hues; the previous trend will resurface as one of the strongest ones in 2022.

(Four Colours) 1.0CT Moissanite Pear Drop Soleste Halo-Platinum Plated- V Crown Luxurious Ring for Women is the ideal style classic for any outfit thanks to its simple design.
Engagement rings are the significant element of a perfect proposal; all these beautiful diamond rings are available at Planderful.