Summary
Freshwater Pearl Pros and Cons
Pros:
Attractive prices

Wide range of colors

Wide range of shapes, from baroque to near-round

Suitable for everyday wearing
Cons:
Not rare

Not suitable for wearing when showering or swimming
Freshwater Pearl Products are Appropriate for......?
Fashion Tastemakers

Classic & Elegant Looks Followers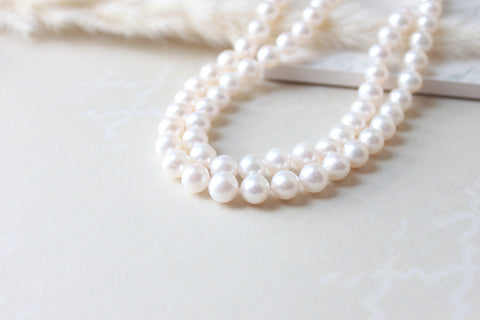 1. What is Freshwater Pearl?
1.1 Definition of Freshwater Pearl
In the most cases, when we are talking about Freshwater Pearl, actually it means cultured freshwater pearl, including those that are claimed as "natural pearls". Cultured freshwater pearls are pearls that are farmed and created using freshwater mussels (see the reference from the link: https://en.wikipedia.org/wiki/Cultured_freshwater_pearls).
1.2 History of Freshwater Pearl
According to The British Museum Press (2011, ISBN 9780714128238), the Holarctic saltwater pearl mussel used to be an important source of pearls for modern jewelry. This species was mainly from Scotland while it could be found in most areas in the world now.
Japan was the first country to cultivate whole freshwater pearls by using the Biwa pearly mussel in Lake Biwa, which is the largest freshwater lake in Japan.
Other than Japan, United States was also one of the pearls producing areas and owned a pearl farm in Tennessee that is the only freshwater pearl outside of Asia. It is a scenic spot now.
For now, China has become the only commercial producer of freshwater pearls and is producing more than 2,000 tons by using various of mussel species, as pearls are not only the source of modern jewelry but also the important materials to make traditional Chinese medicine and skincare products (see the reference from the link: https://web.archive.org/web/20070927003920/https://www.was.org/Meetings/AbstractData.asp?AbstractId=14278).
1.3 Is Fresh Water Pearl a natural pearl?
Pearls are natural gems produced by the pearl oyster, and also, the freshwater pearl mussels. Freshwater pearls are created inside freshwater mussels, which are found in lakes, rivers, and ponds. A single freshwater pearl mussel is capable of producing up to 50 pearls at a time.
1.3.1 Grafting
The grafting process begins by choosing a suitable donor mussel and cutting a strip of tissue from the mantle. This strip of tissue is then cut into three-millimeter squares. These squares are delivered to a technician who performs the operation.The technician creates small incisions on the upper valve, and inserts the tissue piece. A small twist of the tissue upon insertion is believed to create a higher ratio of round pearls. After the maximum number of grafts have been performed, the mussel is flipped, and the procedure is performed once again on the other valve of the shell.
This practice was common when the industry mussel was primarily the cockscomb pearl mussel (Cristaria plicata). More than a decade ago the freshwater pearl industry of China shifted production from the cockscomb pearl mussel to the triangle shell mussel (Hyriopsis cumingii). The triangle shell produced fewer pearls, accepting only 12–16 grafts per valve for a total production of 24 to 32 pearls, but produced pearls of better quality (see the reference from the link: https://en.wikipedia.org/wiki/Cultured_freshwater_pearls).
1.3.2 Processing
Freshwater pearl harvests are typically bought while still in the shell. After harvest the pearls are delivered to a first-stage factory, which is responsible for cleaning and sorting the pearls by size and shape. After this process has been completed, the pearls are considered ready material for processing factories. The pearls are pre-treated (maeshori) in a warm and cold chemical solution and then bleached. The pearls that exhibit strong coloration only go through the maeshori and are not bleached or dyed.
After the pearls are treated, they are drilled and then polished with a mixture of cornmeal and wax. Finally they are matched into temporary strands, which are then matched again into hanks. Hanks are composed of 5 to 10 temporary strands and are considered wholesale-ready (see the reference from the link: https://en.wikipedia.org/wiki/Cultured_freshwater_pearls).
 2.Fresh Water Pearls V.S. Saltwater Pearls
Generally, freshwater pearls are at lower price because the freshwater mussel can produce more pearls at a time, whereas the smaller saltwater oyster can create just one. Saltwater pearls are differentiated by region: South Sea pearls are most valued due to their size, Tahitian pearls are next for their colours, with Akoya the least prized, being the most common (see the reference from Jewel, A Celebration of Earth's Treasures). Freshwater pearls usually enjoy the same makeup and lustre as saltwater pearls, and were more accessible to ancient man.
2.1 Fresh Water Pearl
Freshwater cultured pearls are the most commonly produced pearls and they are one of the most popular pearl types for consumers and jewelry designers. This is due to their remarkable range of sizes, shapes and colors, plus their commercial availability at lower price points. (For more details, please read Point 1 above).
2.2 Akoya Pearl
Akoya pearls are the most familiar type of saltwater cultured pearl to most people. When customers want to have a piece of classic pearl jewelry, many of them think of white or cream colored akoyas, especially single-strand necklaces. Japan and China both produce akoya pearls.
2.3 Tahitian Pearl
Cultivated primarily around the islands of French Polynesia (the most familiar of these is Tahiti). These saltwater cultured pearls, sometimes referred to as black pearls, actually have a wide color range. They might be gray, black or brown, and they can have blue, green, purple or pink overtones.
2.4 South Sea Pearl
Saltwater cultured pearls, especially South Sea Pearl, could be mainly found at coastal waters of China, Australia and the Philippines. They can be white to silver or golden, depending on the type of oyster. Their large size and thick nacre, due to a long growth period, plus their limited critical growing conditions are all factors contributing to their value (see reference from the link: https://www.gia.edu/pearl-description).
3. Buying the Fresh Water Pearl
Beautiful, feminine and so very affordable, the Freshwater pearl is one of the world's most interesting and ever-changing pearl types. Planderful tries to answer all your questions about these colorful pearls. From the pearl farms to their dazzling array of colors to learning how to grade and evaluate each freshwater pearl grade … all your questions boxes will be ticked here.
3.1 Price
Freshwater pearls are appreciated for their modest price, while still being able to offer incredible beauty and a luxury-style pearl necklace or pair of earrings that everyone is sure to love wearing. For affordability and versatility, Freshwater pearls are hard to match.
In average, the price range of Freshwater Pearl Jewelry locates as below:
| | |
| --- | --- |
| Necklaces | $250 - $5,000+ |
| Earrings | $99 - $500+ |
| Bracelets | $139 - $600+ |
| Rings | $550 - $1,500+ |
| Sets | $1,000 - $7,5000+ |
The price range is wide, usually because of pearl size range, purchase scale, materials and crafting skills, the distance from the origins, etc.
On Planderful, benefit from placing purchase orders directly to freshwater pearl producer, the price can be even pressed while keeping high quality.