Hoops, long, short, pearls, hooks, or ear cuffs, there are many varieties of earrings. Undoubtedly, these jewels are a must in fashion. In the following article, we want to delve into one type in particular: ear climbers, which are those that cover the entire ear and that, in recent times, are causing a real sensation.
Trend alert
The ear climbers are a very original jewel and suitable for all types of people, styles, and occasions. This accessory is visible on red carpets as well as in offices, no matter the setting. That is why they have become a must-have in our jewelry boxes.
These earrings are everywhere, from Pinterest boards to selfies of celebrities and influencers on Instagram or Twitter.  These jewels have already become a trend. Ear climbers stand out mainly for their unique and innovative design. When placed in the earlobe, they give the impression that the wearer has multiple perforations along the cartilage.
The truth is that they leave no one indifferent: the innovative and genuine design of this piece of jewelry is highly appreciated by all types of users.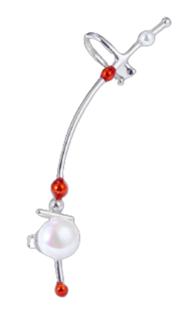 https://www.planderful.com/products/natural-pearl-enamel-earrings-with-ear-bone-clips-for-women
Why are ear climbers so special?
There are many reasons to get a pair of ear climbers; do you want to know them?
- They are easy to put in the ear.
- You can find a wide range of colors, styles, and designs.
- They are wearable for all kinds of occasions: from the most elegant events to everyday wear.
- They offer a youthful and daring touch to your look.
How to wear these ear climbers that cover the whole ear?
Putting on ear climbers is really easy. What's more, all you need is a piercing! In fact, they are put on in a similar way to earrings and adjust upwards. The ear climbers are sold in pairs, but it is true that everyone can use them as they like. Thus, you can see looks where an ear climber is combined with earrings or other types of earrings. You can also wear them alone and create an asymmetrical and modern look, and without having to undergo new and painful piercings.
This is a trend that continues to grow in popularity and demand, and there are no set rules. Women can use the versatility of climbing earrings to their advantage. Thus, those who wish to experiment with the pieces and play with their creativity and imagination can try various ideas and ways to wear these unique and daring pieces.
Regardless of whether you wear your hair up or over your shoulders, they offer an infinite variety of symmetrical or asymmetrical possibilities.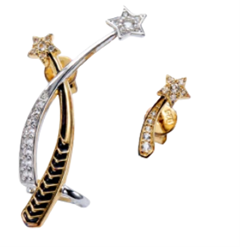 https://www.planderful.com/products/meteor-enamel-ear-bone-clips-and-studs-earrings-for-women?_pos=20&_sid=42bbee3a4&_ss=r
Styles you can recreate with your ear climbers
The versatility of these earrings will help you create different looks. From simple shapes, silver or gold-plated earrings, to modern shapes and original figures, these are some of the styles you can recreate with ear climbers.
- Rocker Look
- Travel to Ancient Greece with ear climber designs that will make you feel like Aphrodite or Helen of Troy. Combine them with any look and feel like a goddess of Olympus.
- Elegant look, ideal for weddings.
- Have fun with an innovative look with geometric designs.
- Use motifs from nature for a bold and powerful look.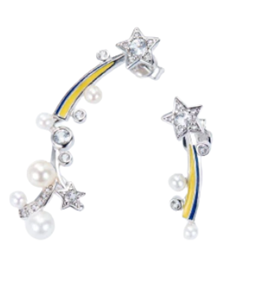 https://www.planderful.com/products/meteor-enamel-with-pearl-ear-bone-clips-and-studs-earrings-for-women?_pos=21&_sid=42bbee3a4&_ss=r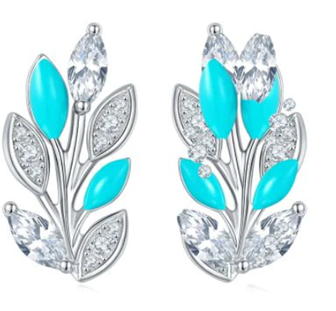 https://www.planderful.com/products/wheat-ears-enamel-silver-earrings-for-women-1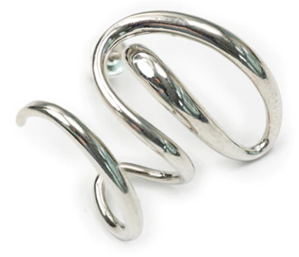 https://www.planderful.com/products/silver-curve-studs-only-one-not-in-pair
How to take care of climbing earrings?
In the market, it is possible to find a wide variety of models, according to their size, design, and material. However, it is important to note that silver has been one of the most demanded materials for the manufacture of these accessories. Among the best-selling pieces of the last season are:
-Silver climbing earrings fine links.
-Climbing earrings with Silver Star design with zirconias
-Sterling silver climbing earrings with six adamantines quartz in rhombus design
-Silver climbing earrings with shiny crescent-shaped zirconia design
Each of these pieces stands out for its elegant and sophisticated design, as well as its quality and resistance. However, to preserve their good condition and keep them as good as new, it is necessary to take some precautions:
-Avoid diving into the beach, swimming pools, and rivers with earrings.
-Keep the silver climbing earrings in a place with a cool climate and free of humidity.
-These silver accessories cannot come into contact with chemical substances such as cleaning products or perfumes.
-If they come into contact with water, dry them as soon as possible with a soft tissue.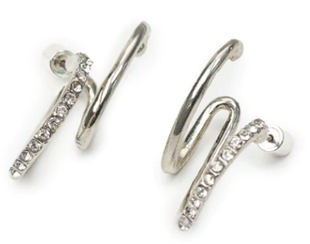 https://www.planderful.com/products/silver-jumping-track-hoops
A trend with a history
Earrings originated in Ancient Egypt more than 6,000 years ago. They were simple earrings that pierced the ears, serving to attract attention and provoke interest. Along with the necklace and the comb, earrings are the oldest and least evolved objects in use since the Paleolithic era, with little change.
The first earrings in recorded history were made with carnelian or red agate stone and were attributed with the virtue of curing stomach pain. In the beginning, it was magical support, an element loaded with supernatural symbolism and a talisman. It also served as a civil or military reward, although at the opposite extreme it could be used to allude to the condition of slave or serf, or prisoner of war.
The oldest earrings preserved come from Egyptian and Syrian tombs, and they are pieces of little material value: simple rings from which hang figures in the shape of cups, nails, and crescent motifs.
The variety of decorative motifs in Egypt never reached the degree of sophistication that the earrings reached in Greece. Tiny women's heads are carved in gold or delicate flowers, fruits, birds, or enameled amphorae, a precious and fragile world in miniature.
Although the use of earrings declined throughout the middle Ages, because the fashion for hairstyles concealed the ear, during the Renaissance, they regained their former relevance and became an important target for goldsmiths, who enhanced them with applications of enamel, precious stones, and pearls.
Small or large, the extravagance in the ears is millenary.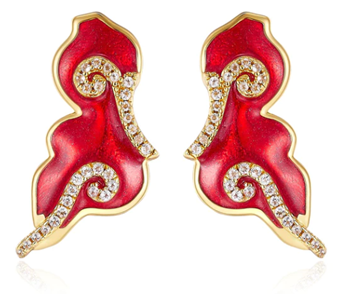 https://www.planderful.com/products/red-golden-enamel-studs-earrings-for-women
https://www.planderful.com/products/green-miniball-with-pear-enamel-silver-hoop-earrings-for-women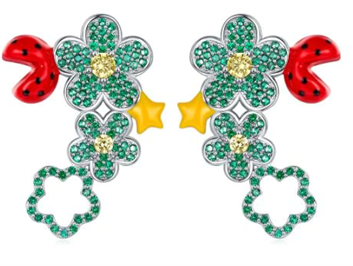 https://www.planderful.com/products/ladybug-with-flower-enamel-silver-studs-earrings-for-women
Did you know about ear climbers? If you're hungry for more, be sure to visit our Planderful online store! We have all kinds of models for all kinds of looks. Choose your favorite and dazzle them with your style.