Celestial jewelry are one of the hottest fashion trends to hit the market! From stars and moons to planets and galaxies, there's something for everyone. Let's explore the different types of celestial earrings and show you how to incorporate them into your wardrobe for maximum style. So whether you're looking for a classic approach or something a bit more daring, let's take a look at how you can shine bright with celestial jewelry!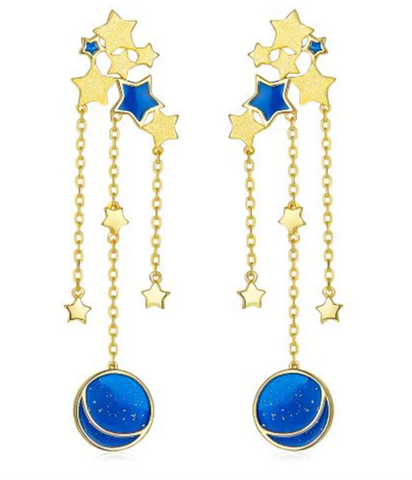 Blue & Golden Moon Star Enamel Drop Earrings for Women
Celestial earrings are a unique type of jewelry that feature stars, moons, planets, and other cosmic designs. Add a celestial touch to your outfit with these celestial accessories that will be sure to draw compliments from all your friends. Whether you're looking for celestial hoops, celestial studs, celestial chandeliers, or celestial dangles—there is definitely an option here for any style! So stargaze away and make a fashion statement with celestial earrings or celestial necklaces!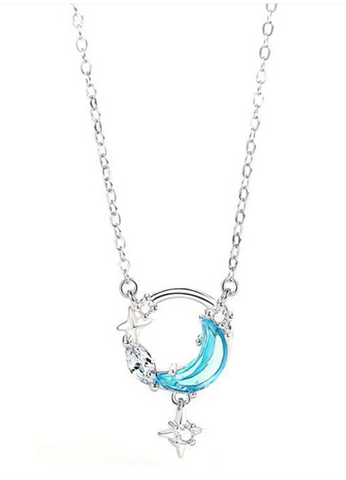 Blue Zircon Moon Star Pendants 925 Silver Collarbone Necklace for Women
Celestial jewelry are often made with materials such as sterling silver or gold, and may feature gemstones or colorful enamel—what's not to love about celestial themed earrings? They provide a subtle yet stylish way to express yourself and your passion for the stars. Not to mention, they add a touch of shine and sparkle to any outfit. Whether you choose an eye-catching pair of earrings with intricate details or a simpler design, celestial earrings are always sure to make a statement.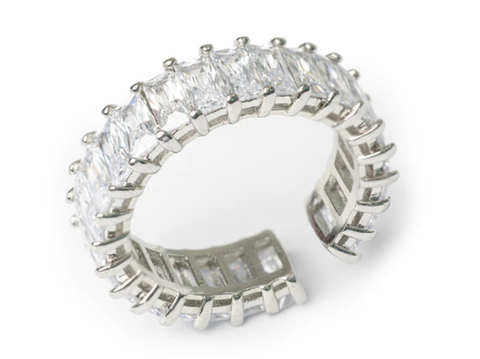 The Brightest Star Over Night Ring - Silver Ring for Women
Celestial rings and celestial zodiac sign necklaces also make a great gift for anyone who loves astrology or dreams of exploring the stars However, celestial themed earrings have become popular not only for those who love astrology and stargazing, but also for those who just appreciate unique and eye-catching accessories! Celestial earrings make an excellent gift choice for anyone looking to add a touch of cosmic wonder to their wardrobe.
Benefits of Wearing Celestial Earrings
Wearing celestial earrings can also be a symbolic reminder of our connection to the universe and the power and beauty of space. When we adorn ourselves with these celestial trinkets, it can be akin to declaring that we are part of something greater. Whether it's the stars, planets, galaxies, or other astronomical objects, wearing these earrings can provide a unique way to express our relationship with the universe. It can also be a reminder that no matter how small we may feel amidst the vastness of space, we are still connected to something much bigger. So put on your celestial earrings and let the beauty of the universe guide you!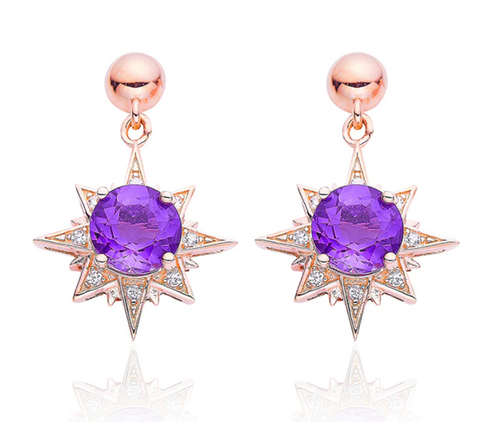 Purple Crystal Stone Solitaire (Rose Gold Colour) Star Studs for Women
Celestial jewelry can also be great conversation starters, allowing you to express your own beliefs and values with those around you However, celestial earrings are much more than just an accessory; they are a way to make a statement. Not only do celestial earrings provide you with the opportunity to rock a celestial look, they can also be great conversation starters, allowing you to express your own beliefs and values with those around you. So if you're looking for celestial accessories that make a statement, celestial earrings should definitely be at the top of your list.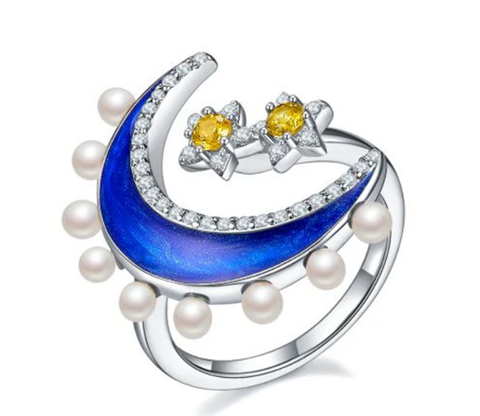 Moon Star Enamel with Pearl Sliver Ring for Women
Celestial Earring Styles: Find the Right Look for You
If you're a fan of celestial accessories or just looking for a unique touch of sparkle, celestial-inspired earrings are sure to put a twinkle in your eye. Whether you choose to go subtle and simple with a classic pair of celestial studs, or bold and brilliant with celestial drop earrings, celestial jewelry is the perfect way to show off your unique style. Plus, celestial earrings are an easy way to add a celestial touch to any outfit!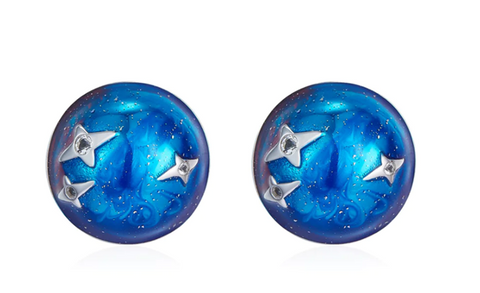 Galaxy Star Light Enamel Silver Studs Earrings for Women
There is an array of colors to choose from, including classic silver and gold as well as colorful gems for those wanting to inject a bit of celestial style into their wardrobe. Celestial earrings are perfect for anyone looking to add a touch of celestial inspired sparkle and shine to their look, no matter what the occasion. From dainty studs to dazzling chandelier drops, there is something for everyone to make them stand out from the crowd. So why not adorn yourself with a pair of celestial themed earrings and add some celestial elegance to your ensemble?
Tips for Caring for Your Celestial Jewelry
Store your celestial jewelry in a cool, dry place to prevent tarnishing and keep them looking their best—it's the celestial-themed jewelry equivalent of putting your best foot forward! Make sure to give your celestial earrings the respect they deserve and they'll be sparkling longer than a shooting star!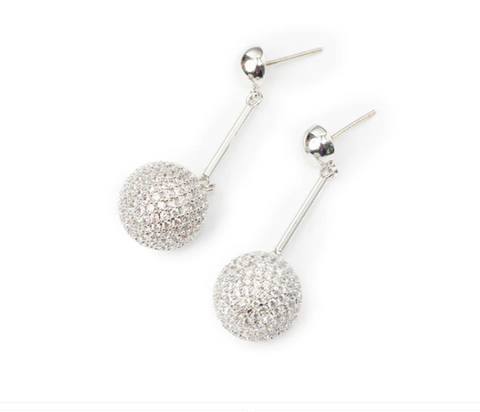 Galaxy Drop Hoop Charm - Silver Drop Earrings for Women
Make sure to remove your celestial earrings before swimming or showering to avoid contact with moisture. These celestial accessories may not be waterproof, but they can still provide a celestial look to your outfits. Whether you're going for a celestial goddess vibe or just want to add a celestial flair to your style, celestial earrings are an excellent way to accessorize and make a statement. You'll be sure to turn heads when you step out with these celestial accessories!
To clean your celestial earrings, use a soft cloth, cotton swab, or jewelry cleaning solution as needed Also, don't forget that when cleaning your celestial themed earrings, be gentle and use the appropriate tools. A soft cloth, cotton swab and jewelry cleaning solution should do the trick to have your earrings looking sparkly and new once again.
Where to Buy Celestial Earrings
Celestial earrings are available in a variety of styles, from delicate silver studs to bold statement pieces that are sure to make a celestial-themed statement. Whether you're looking for celestial-inspired jewelry to accentuate a special night out or wanting to add some celestial-themed flair to your everyday wardrobe, celestial earrings can help you make a celestial-themed statement. The best part about celestial earrings is that there truly is something for everyone—from the celestial-lover who wants to stand out in the crowd, to the celestial-dreamer who simply wants to add a subtle celestial touch!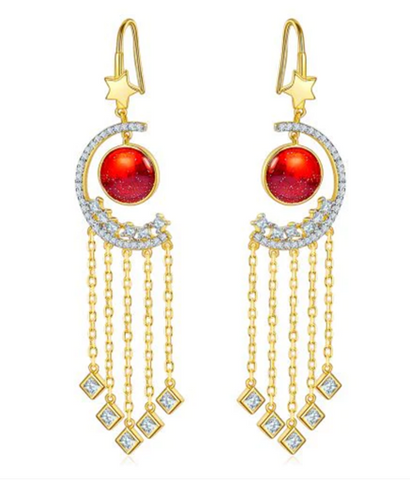 Red & Golden Moon Star Enamel Dorp Earrings for Women
Celestial jewelry pieces are a great way to show off your style and express your individuality. Whether you're rocking celestial themed jewelry to represent your zodiac sign, or to just show off your celestial style, celestial jewelry are the perfect accessory to make a statement. Not only do celestial accessories add an eye-catching wow factor to any outfit, but it also shows the world that you take your celestial style seriously. So go ahead and check out Planderful's moon and star jewelry… and fly high with celestial jewelry: they're the perfect way to express yourself!